News
13.07.2017
Heppix A delivers over a year's consistently good performance as a flocculant for sludge dewatering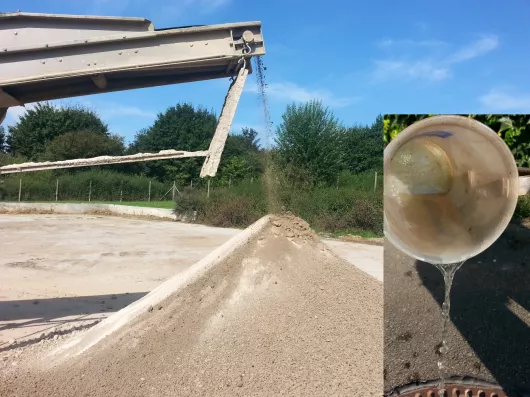 Since July 2016 Heppix A, the biodegradable, environmentally friendly flocculant from BioLog Heppe GmbH, has been used continuously in centrifugal sludge dewatering at the Böklund sewage treatment plant in Northern Germany.
Flocculant consumption at Böklund WWTP has been consistently between 4.56 Kg and 4.87 Kg per ton TS at a sludge concentration of 2-3%, producing a 21 to 24% TS cake treatment. Seasonal variations in temperature and waste water composition had no significant impact on the flocculant consumption. Böklund was able to use Heppix A at a treatment cost of €32,000 per year for 16,000 inhabitants. This translates to an annual treatment cost of €2.00 per inhabitant compared to €1.10 per inhabitant for synthetic flocculants.
This higher flocculant cost is compensated by several cost saving benefits:
1. Safer handling, clean and easy preparation of the solution
2. A ready-to-use solution providing consistent performance for several days.
3. Easy to introduce, no changes in pump flow rates, similar machine parameters
4. A sustainable, environmentally friendly product made from renewable raw materials, non-hazardous to water
5. Complete biodegradation of the natural polymer within 6 months, avoids the accumulation of persistent chemicals in our natural environment
6. Binds odours and fats
Sewage plant operators at Böklund found this new material easy to handle and liked its performance. They were also confident in their ability to provide farmers in their area with an ecologically beneficial treated sludge for use as fertilizer.
Chitin based flocculants are now registered for use by the German Fertilizer Regulations. Therefore, Heppix products, which are produced using Chitosan from wholly natural resources are approved for use in sludge thickening in all sewage plants.